Who doesn't like to hear about Indians who have made it big in life due to sheer grit,determination and hardwork on their part?Since our main focus is on Indians in the US, we are presenting a special feature on Indian Success Stories in the US from February 2000 onwards. We hope that these stories would inspire many of you to climb higher mountains in life.If you would like to contribute to this section, please e-mail to us at webmaster@garamchai.com

Click here for Success Stories Archives
---
---
Growing up in America: with Indian performing arts
IANS Monday, February 23, 2004 (Source:
SiliconIndia.com
)
PITTSBURG: In her fashionably frayed jeans and hooded coat, Deepa Ramachandran looks as American as can be but two little 'jimikis' (traditional south Indian gold ear rings) peeping out of her hood tell a different story.
They tell a story of love for Indian arts blossoming seven seas away.
This 23-year-old, who has grown up in Salt Lake City (Utah), sits cross-legged on the floor and executes a soulful rendition of the traditional Carnatic (south Indian) classical raga Anandabhairavi.
'Jimikis' are popular as performance jewellery among women musicians and dancers in Chennai.

Ramachandran, a graduate student in electrical engineering at Carnegie Mellon University (CMU), is just one of the hundreds of US-based youngsters who have not only learnt but regularly perform Indian classical music and dance besides pursuing successful non-musical careers.

What prompted these young people, born in a country often accused of "westernising" youngsters of non-American nations, to take an interest in these kinds of arts?

"The influence begins with the parents. They not only put their children into music lessons but also work with them to develop an interest in the art forms," Seethalakshmi Madhavan, a Pittsburgh-based Carnatic vocalist and music teacher, told IANS.

"My father used to drag my sister and me to concerts when we were very young even if we slept through them. He played fun games like 'guess the raga', which got us involved, and my mother taught us small songs and shlokas (Sanskrit verses) from tapes," added Ramachandran, whose sister Divya is also learning to play violin under noted violinist Mullaivasal G. Chandramouli.

Lakshmi Iyengar, mother of enthusiastic budding dancer Radha, 14, and budding vocalist and percussionist Madhav, 9, insisted that getting a good teacher was also important.

"But, in the US, teachers like Madhavan are hard to come by and in that sense I think we were lucky," she added.

These youngsters typically begin with teachers in their area and go on to take advanced training from Indian musicians and dancers touring the US. They later travel to India during summer or winter breaks and learn from their gurus in the traditional gurukulam style (staying and travelling with their gurus).

Vanita Sundararaman, 17, for instance, trained and continues to do so under Pittsburgh-based physician and Kuchipudi danseuse Kamala Reddy. She also takes advanced lessons from noted Chennai based dancer and guru Vempatti Chinna Satyam.

"Teachers here have very little time because they have alternate careers, but since there are so few of us learning we are able to develop a closeness with our teachers and our peers.

"We go to Chennai for short periods and concentrate on learning as much as we can before it's time to return. It is intense dancing but less personal," said Sundararaman. She also learns Bharatanatyam.

Cultural organisations also play an important role by staging performances of Indian musicians and dancers, providing the youngsters with an opportunity to watch the stalwarts in action. They also provide budding artistes with a platform to display their talents.

Vocalist Anisha Anantapadmanabhan, a management major at CMU, said she received her first concert opportunity thanks to the New Jersey-based Classical Music Association of North America (CMANA). She grew up watching CMANA concerts held in Bridgewater Temple there.

"In India artistes live closer to home and concerts happen all the year round. But for us live concerts were few and we lapped up all that we got as we started getting more and more interested in classical music," said Ramachandran, who received the Utah Arts Council scholarship for folk arts in 1997, awarded to students of these arts in the state.

While these youngsters address their professors by their first names, as is the practice here, they suffix terms like "sir" or "akka" (elder sister) as a mark of respect while referring to their gurus, in keeping with convention in India.

They are called American Born Confused Desis (ABCDs) but when it comes to Indian performing arts, there's no confusion, just enthusiasm all the way!
---
---
Jhumpa Lahiri - Interpreter of Immigrant Life

She is London-born, raised in America and looks for inspiration to Calcutta.Toasted by critics across the globe, Jhumpa Lahiri knows that she has finally arrived.Lahiri's debut work ,Interpreter of Maladies which is a collection of nine short stories,chronicling the immigrant experience in the U.S, has left readers craving for more from this gifted writer. Her writing is smooth -flowing and gentle .The stories are "on-the-face" direct and embrace you in their warm folds without you even being aware of it.Lahiri has helped in throwing clearer light on an Indian's perspective of life in an alien land.However,the book doesn't reek of ethnocentricity - it has a universal flavor and appeal that an immigrant from any corner of the world would be able to relate to. Her style is simple yet smart,sparing in words yet divinely eloquent,weaving visual images for the reader in a startlingly realistic manner.What is remarkable about Lahiri is that although she has never been an immigrant,she is able to step into the latter's shoes without a stumble or a shoe-bite.Call it uncanny or intuitive but one can't ignore the fact that this lady has a gift for tucking away memories and observations in the back of the beyond of her literary mind and churning them into a mixture of sensitive and thought-provoking stories.

About Jhumpa:

32-year old Jhumpa drew inspiration for her writing from her frequent visits to Calcutta in the formative years of her childhood and also from the observations that she made about her immigrant Bengali parents' Indian friends in the U.S.

Her varied experiences in Calcutta, enabled Lahiri to form closer ties with India and the country's rich cultural heritage while simultaneously coping with the pressures of everyday American life. Perhaps this exposure to both the cultures - Indian and American is what assisted Lahiri to tread through cross-cultural currents with amazing ease in her book Interpreter of Maladies.

The path taken:

Jhumpa Lahiri defined her dreams to become a writer after she enrolled in a writing program.The path to success was intially riddled with obstacles.Her graduate application was rejected by several schools and Lahiri was left debating about her next move.Not the one to give up,she succeeded in gaining acceptance into a creative writing program in Boston University and then went onto join a PhD program.

Lahiri's creative juices were flowing as she pursued higher studies. She continued to submit stories for literary magazines although she didn't have a clue as to how to sell her work.Opportunity presented itself to her in the form of a fellowship into the Fine Arts Work Center in Provincetown, Massachusetts.

Things started rolling from there.She found an agent ,sold her work and had a story published in The New Yorker. "I've been extremely lucky. It's been the happiest possible ending.",Lahiri says. That paved the way for greater things to come for Jhumpa.Her award-winning work Interpreter of Maladies came out in early 1999 before which three of her stories appeared in The New Yorker.

The Rewards of Success:
Jhumpa Lahiri has been named by The New Yorker as one of the "20 best young fiction writers in America under the age of 40".
Interpreter of Maladies has been selected for the O.Henry award and the Best American Short Stories.
Lahiri is the recipient of the Tranatlantic Review Award from Henfield Foundation.
Lahiri is also a recipient of the Fiction Prize from the Louisville Review.
Lahiri is halfway through her second novel, details of which are under cover now.She plans on continuing penning short stories alongside larger projects.We wish this promising young writer of contemporary fiction the best of luck in her future endeavors and hope that her next novel will enthrall us as much as her first one did.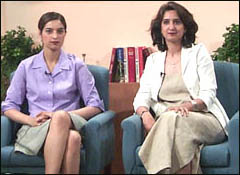 Jhumpa with writer Marina Budhos,in a meeting organized by Diasporadics & SAJA (South Asian Journalists Association)at Maharaja Restaurant in Manhattan.Marina Budhos is the author of the recently published novel,The Professor of Light.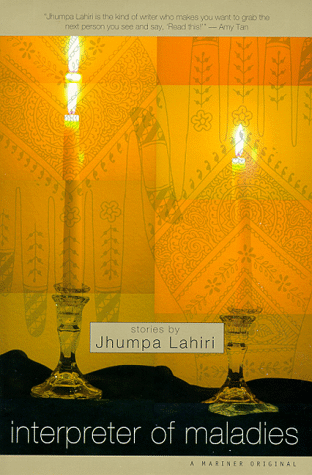 The cover of Interpreter of Maladies