GaramChai.com >> GaramChai.com Features Achieve >> Articles
We are constantly on the lookout for articles of interest to feature on GaramChai.com. Please mail us articles you would like to see featured and we will be glad to oblige.
A School for 'ideal' wives (From Rediff.com)
The Rediff Special/Anjali Deshpande (Women's Feature Service)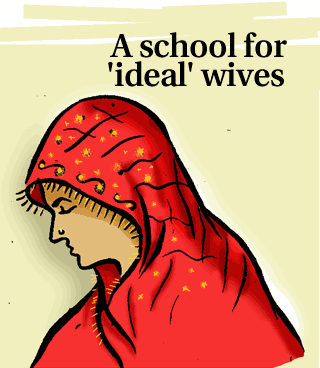 Deepti, 18, recently cleared her class 12 examination. And that, her parents decided, was enough education for a girl. Four months ago, they fixed up her marriage. Deepti is now training at the Manju Sanskar Kendra in Bhopal to be an ideal wife to a boy she has only seen once, and with whom she occasionally chats on the telephone with her parents' permission.

Six days a week, Deepti attends sermons at the Kendra, an institution set up to train women to surrender to the more powerful in the family -- in this case, the husband and in-laws. Aildas Hemnani, the Kendra's head, coaches his students in a spacious room that doubles up as a prayer hall for the Sindhis in Bairagarh, a Sindhi-dominated residential area on the outskirts of Bhopal.

"Aildas bhau [brother] is teaching us how to keep our minds and bodies pure and our tempers in check," says Deepti. Among other things, he also ensures the girls know how to always keep their heads covered and ensure the pallu doesn't slip off.

A retired Madhya Pradesh government employee, Hemnani's idea to set up this 'unique institution' evolved during a discussion with Sant Hridayaram, who is highly revered by the Sindhis.

"I was distressed by the constant bickering among families all around me. At times, it led to divorce. I told Sant Hridayaram that families are breaking up because girls nowadays have too much ego. Parents don't have time to train their daughters properly. Girls must shed their egos to build a happy family. Sant Hridayaram suggested I start a training course."

In 1988, Hemnani made the rounds of local schools and persuaded one of them to let him use its premises for two hours every day before the regular classes began. He lectured for two hours in the morning, six days a week, to the few girls who cared to attend.

Hemnani has authored three textbooks for his students, drawing inspiration and information from Geeta Press, a publishing house that prints Hindu religious books. Hemnani distributes these textbooks free of cost to his students.

One of Hemnani's textbooks, Grahasth Mein Vyavaharik Jeevan (Practical Married Life), claims: 'Science has proved that when menstruating women touch leaves and plants they wilt and decay faster.' However, when asked about the source of such a study, Hemnani becomes defensive, "I cannot give you proof. I have heard this and read it in the books that have been published by Geeta Press. What proof can one have of the truth the mahatmas have said?"

The books are studded with many other such nuggets. 'Too much sex,' avers one, 'is the cause of diabetes and tuberculosis among men.' Hemnani's books lay stress on abstinence within marriage as a contraceptive measure and advise women and men to engage in sex only for procreation. Care during pregnancy includes elitist, regressive advice such as not looking at blind, disabled, deaf and 'unattractive' people!

The three-month course is free and does not follow any fixed calendar schedule. It includes lessons in Gurmukhi, the script for the Sindhi language, recitations from the Granth Sahib and teachings culled from Hindu religious books, including the Puranas and the Bhagvad Gita. It costs community donors Rs 30,000 to Rs 40,000 a month to keep the course going for a handful of girls. The expenses include distributing booklets, cassettes of hymns and light refreshments like nutritious drinks for all devotees who use the prayer hall on Saturdays.

"Men build society and women build homes," declares Hemnani. Towards this end, the girls who attend his course are taught to sew, cook and pray -- in theory. "We don't have the facilities for practical training." More importantly, they are taught how to conduct themselves in their in-laws' household.

Nisha, another alumni, attended the course for a whole year before she was married off to a businessman whom she hadn't seen before marriage; she had not even been shown his photograph. Nisha claims the Kendra taught her to 'adjust properly.' She elaborates, "Sometimes when I get angry, I remember what bhau taught us and my anger vanishes."

Nisha has also learnt how to protect her and her husband's health and to prevent sexually transmitted diseases. "That is taught only to older girls when they are about to be married. I know I should not sleep with my husband during menstruation. He will fall ill," says Nisha.

Women's groups first heard of the Kendra two years ago when a local newspaper published a feature on it. "All they teach is subjugation," says Kumud Singh, secretary of the Bhopal district committee of the National Federation of Indian Women. An attempt by the All-India Democratic Women's Association to engage Hemnani and his students in a dialogue has been rebuffed.

Sandhya Shaili, president of AIDWA's Madhya Pradesh chapter, wonders how long the girls will follow such retrograde ideas. "They are teaching girls how to attune themselves to the demands of a patriarchal society. The girls are young and immature. I wonder how many will stick to the teachings once they start having problems."

"The Sindhi community here is very conservative," she adds. "Two years ago they demanded that co-education in schools be stopped. We protested and stalled the move.
Singh, meanwhile, feels that boys should also be coached. "Training and restraining boys is necessary. If men learn to respect women, half the problems families face would be solved."

Hemnani says he would like to coach would-be husbands as well. "I wanted to train boys too but nobody is interested," he laments. He has also created a course that would train women to be ideal mothers-in-law but, like the course for boys, that too didn't take off.

A permanent address for the Kendra came up in 1994 when a rich Mumbai-based stockbroker, Sukhram Das Mehtani, spent Rs 1 million to provide a place for the 'unique institution.' His only condition was that the Kendra be named after his only daughter, Manju, who died before her 18th birthday. The centre is now run from a large, bare hall, with a tiny sitting room and a little kitchen in the compound of a public school.

Hemnani has been running the course for the last 15 years and it has been confined largely to the Sindhi community in Bhopal. Saturdays see the highest attendance, when 30-odd young women and a couple of matrons come to the centre.

But his ideas are now gaining popularity outside Madhya Pradesh. He recently held a 10-day camp for youngsters in Ahmedabad and Junagadh in Gujarat and will soon visit Jaipur in Rajasthan.
Illustration: Dominic Xavier